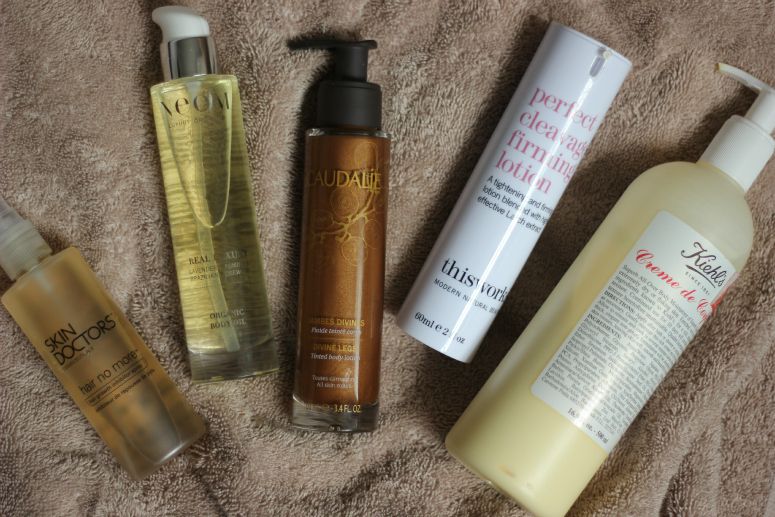 As you know, I've recently been on holiday to Morocco. Needless to say, my body was not prepped to be on show after months of being hidden under layers of clothes in chilly old London town. What did I do? Whipped out some of my favourite body products to get myself into ship shape.
Skin Doctors Hair No More
I started using this product years ago but it's been a while since I used it. I had a pre-holiday wax at my favourite London spa, Kimantra, and now that I've fully committed to one place, I've booked in for my next wax already. I am doing this properly. This product is supposed to be used post-wax to make the hair grow back in finer. If you use it properly you can end up with zero re-growth. That's the dream so I'm fully committing to this little beauty.
NEOM Real Luxury Organic Body Oil
*
I love to drop a bit of this luxurious body oil in to my bath or straight after I jump out to try and keep skin soft and supple. It also smells gorgeous, perfect for before bed as it's such a relaxing scent.
Caudalie Divine Legs
*
I already love the Caudalie Divine Body Oil (unfortunately it's currently in storage alongside the majority of my beauty products until I move into my new flat) but this is something a bit special.
Ruth's before and after picture shows the product off best
and I have to confess, I use it everywhere if I'm trying to look a little less pasty.
This Works Perfect Cleavage Firming Lotion
I'm not sure if I'm just buying into the hype with this product or not, but I love the idea that a product could keep my cleavage firm. Not that I'm ageing in that area just yet but as a curvy lady, I do get a bit paranoid about this area! Smells a bit unpleasant but I just hold my breath whilst applying and the scent doesn't linger.
Kiehl's Creme de Corps Body Lotion
*
It's a favourite of beauty bloggers all over the world because it does a darn good job. I always slather on a load of this body lotion after I've shaved my legs to inject some moisture back in. I never want to run out of this.
What are your essentials for when you realise you have to be in a bikini within a fortnight!?