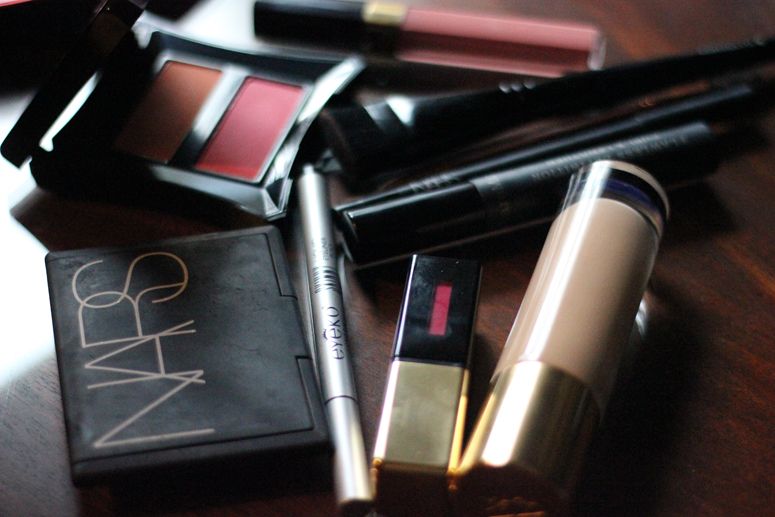 I thought I'd do a little update of some new products and some products which I've been loving for a while but haven't shared with you. This is the majority of my current go-to 'face wardrobe', I missed out the boring stuff.
YSL Le Teint Touche Eclat Foundation
Yep, I bought another bottle because I adore this foundation. It can do no wrong. Decent coverage and dewy too.
Eyeko Skinny Liquid Eyeliner
This is one I've had since September and has been in and out of my make-up bag as I've alternated with other liners but it's been my go-to for the last couple of weeks. I wear a winged liner every day so I need something that's easy and effective which I find this is. And a bargain.
YSL Glossy Stain in Fuschia
When I reordered my YSL foundation, I thought I'd throw in a Glossy Stain to see what all the fuss is about. These are super pigmented glosses which leave a stain of colour on the lips. They apply very 'wet' but quickly dry off. Mine also tastes of raspberries which I really love. A really great addition to brighten up an otherwise basic look.
Illamasqua Powder Blush Duo - Lover & Hussy
*
Part of the new collection from Illamasqua which has just gone live - this powder blush duo is super pigmented which is of no surprise to me, I always think the quality of Illa's products is superb. Paired with the new
Illamasqua Blush Up Brush
*, which is designed to slot under the cheekbone to allow you to ombré blush colour up your face, defining and contouring in one, this is a winning combo.
Chanel Lipgloss in Mystery
I have to thank the lovely
AModelRecommends
for this one as she gave it to me just before Christmas and it's an absolute beauty. I think all girls need to own this beautiful, soft, neutral gloss. It can do no wrong.
BareMinerals Flawless Definition Curl & Lengthen Mascara
*
I tried a little sample of this maybe a year ago and absolutely loved it, but if you're into beauty you'll know how hard it is to repurchase something. Fortunately, I got sent it again recently and fell straight back in love. Perfection for curling and lengthening. If you've got good lashes already then take a look at this.
NARS Laguna Bronzing Powder
Such a cult product, I ran into Harvey Nichols and shouted 'NARS LAGUNA PLEASE' at the sales assistant at the Space NK counter like a mad woman recently. It's worth the hype.
Billion Dollar Brows Brow Brush
*
I'm a Billion Dollar Brows convert. I've not touched my brows since November as I'm leaving them to the professionals now, a sign I'm growing up maybe. Fortunately, I'm fully kitted out with Billion Dollar Brows tools too so I can conceal, brush, blend and highlight my way through that awkward I-need-an-appointment-pronto stage. This brush now lives in my make-up bag. It's super fine for powder application and has a spooly at the other end. An essential.
What new products have you tried out recently that you think I NEED in my life? I've got my hands on Rimmel Apocalips which I'm pretty excited about, but what else...?