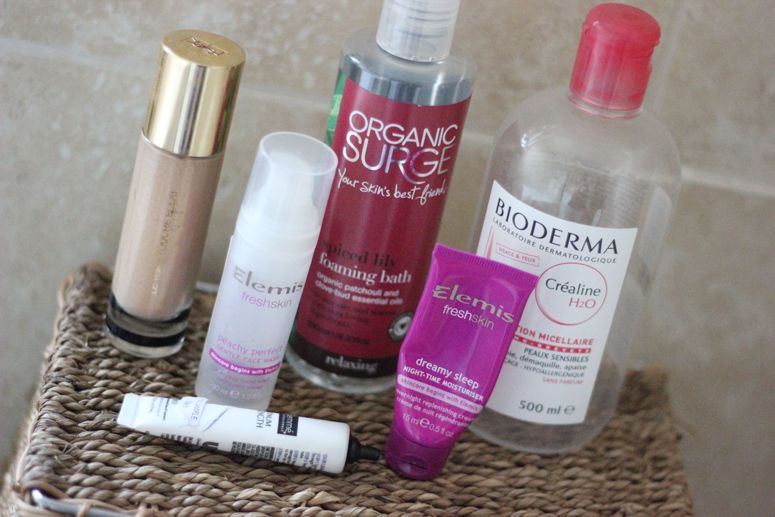 Isn't time flying?!
Yves Saint Laurent Le Teint Touche Eclat Foundation
I flipping love this stuff still. I've been wearing it pretty much constantly since last summer and have repurchased a brand new bottle. Packaging is beautiful. Finish is perfect. Coverage is spot on.
Elemis Fresh Skin Peachy Perfect Gentle Face Wash
*
If you want a really simple, light and easy cleanser you should give this a whirl. I have kept this in the shower and used it as my morning cleanser for the last month or so. Really nice.
TRESemmé Platinum Strength 60 Second Shot*
More of these! Bloody amazing.
Organic Surge Spiced Lily Foaming Bath
If you're a fan of natural products then Organic Surge do a lovely range of bath products which are perfect for chilly winter nights. This one doesn't smell like lily at all but is a really wintery, warming scent which creates loads of bubbles. V affordable too unlike the £20 L'Occitane one I've just bought to replace this (foolish girl).
Elemis Fresh Skin Dreamy Sleep Night-Time Moisturiser
*
I more just finished this up than really enjoyed using it. It's nice but for a night-time moisturiser, I want it to feel really nourishing and really indulgent. This wasn't different enough from my day moisturiser to make me want to repurchase.
Bioderma Crealine H20
Who hasn't tried this?! I love it. It's not life-changing but since I ran out I've really missed it and so have put in an order with my friend Maddie to have a delivery made from Paris (her mum is French) so there should be a new bottle on my skincare shelf this week. Excited!