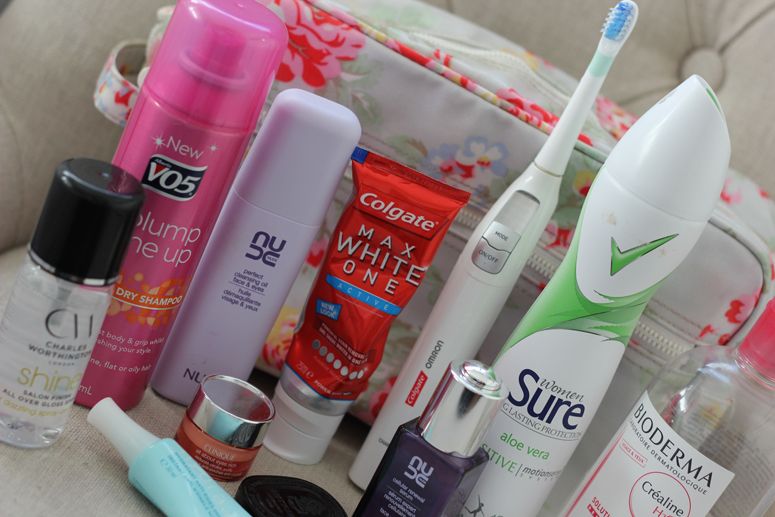 I always think that what you pack when you're low on baggage space says a lot. You want to take the bare minimum to get the job done but not skimp so you feel like you've missed out on half your morning routine. And anything that is practically sized is going to make the cut too.
I spent the weekend before last in Yorkshire at my friend's gorgeous converted mill house drinking too much tea and doing some serious catching up. I knew L would have plenty of essentials – shower gel etc. so this is what I took along.
Diptyque Eau Duelle Solid Perfume
, £28*
Have you ever seen such beautiful packaging? It's a heavy little thing but you can't deny the quality and the sophisticated, light vanilla scent. It's heavenly and I'm devastated to say I'm running out of it far too quickly. Need more!
NUDE Perfect Cleansing Oil,
£28*
Really fantastic packaging for travel. Sleek and compact, not going to spill anywhere and does a great little job.
Colgate Max White One Toothpaste
, £4.07
I think this is an amazing whitening toothpaste. Definitely one of my favourites and I noticed that Frassy recently Instagrammed a pic of it stating its brilliance too. Must be true.
Colgate ProClinical A1500 Electric Toothbrush
, £169.99 (but currently on sale for £84.99)*
This is one serious toothbrush. My old one was in desperate need of replacement so I'm glad this baby came along. Hugely powerful with three different speeds but I always use it on the fastest to give a super thorough clean. Love this.
Sure Aloe Vera Deodorant
, £2
This is my favourite. If you can have a favourite deodorant.
Instant Anti-Wrinkle Yves Rocher Moisturiser
, £18 (currently on sale for £9)*
This was a GlossyBox sample and I've
really
enjoyed using it. It's the perfect balance for me of moisturising but being light too. I'm a bit sad I've nearly finished it!
Clinique All About Eyes
, £24*
Such a fan of this little teeny pot of eye cream. It's perfect for travelling and the perfect level of creamy.
VO5 Plump Me Up Dry Shampoo
, £3.59
For me, VO5 dry shampoo can't be beaten. It smells amazing and does a darn good job. Big fan though I do prefer the 'Refresh Me Quick' version a little more.
NUDE Cellular Renewal Serum
, £64*
I've mentioned this recently; a product which I really love. I like to take a serum away with me as it feels like a part of my routine I'm not really prepared to skip. If I was going camping or something (God forbid), I'd ditch this part too and strip the routine right back, but for weekends away it's gotta be in the washbag.
Bioderma
, £9.95
I like Bioderma, I'm just not sure I get all the hype. It certainly does the job and I'll probably repurchase but I don't think I could rave about it!
Charles Worthington All Over Shine Gloss Spray
, £5.19
Gorgeous little product which is light and easy to use, just spritz over hair to give it extra shine. An essential for blondes.
What are your weekend away essentials?