Hair oils are so popular at the moment, great for keeping dry hair looking a little more groomed and adding some much-needed moisture. I thought I'd show you the hair oils I've been using and give you a quick rundown on which I think are the best from the ones I've tried.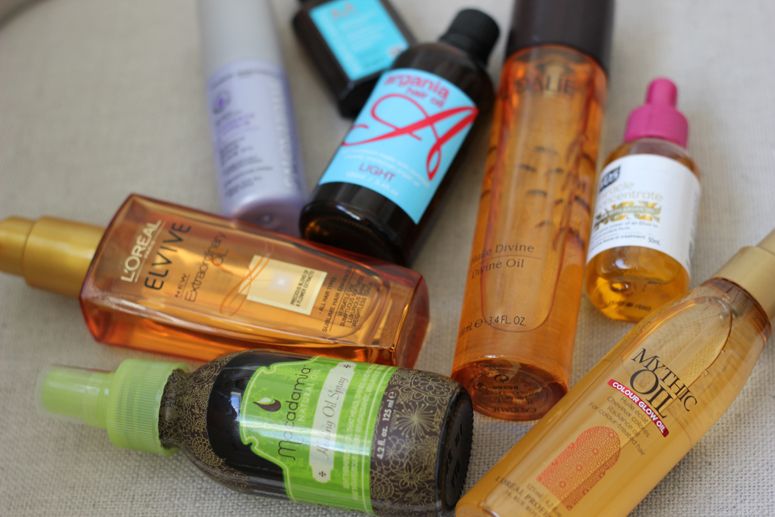 Moroccan Oil
, £12.85
I love the smell, but I know some really hate it. Really luxurious but price reflects the quality. If you're going to get it, consider getting the light version and the 100ml bottle including the pump. This is the teeny baby size which is perfect for travelling.
Argania Organic Moroccan Argan Hair Oil
, £14.99 (currently on sale for £9.99)*
Another one I love the smell of though this is sweeter than the Moroccan Oil. My only criticism of this one is the packaging as you have to pour a small amount into your hand. I do know they're changing the packaging though and this is affordable and readily available in Boots.
Macadamia Healing Spray Oil
*, £21.15
One thing I really loved about the Macadamia Oil was the spray function. It means you only use as much as you need and is spread throughout your ends much more evenly. Smells phenomenal!
VO5 Miracle Oil
, £5.19
This is the cheap and cheerful option. I love the dropper applicator, anything with a dropper applicator I can't deny. Would be even nicer if it was glass but this is the most affordable option. Great for popping on as an overnight hair treatment as you don't feel bad using loads of it.
Caudalie Divine Oil
*, £25
This is technically a hair, body and facial oil. I do use it everywhere but probably in my hair the least just as I have so many other hair oils. It smells beautiful, quite like cocoa and is super luxurious. One for special occasions but save it for use in the bath or as a facial oil.
L'Oreal Elvive Extraordinary Oil
*, £8.49
This is the newest in my collection and is the most recent to be launched. It smells lovely and dispenses just the right amount. I love the glass packaging but I think it's a shame this looks so like the previously released L'Oreal Mythic Oil, they should have mixed it up a little more. Bizarre that the cheaper of the two products has the better packaging though!
Charles Worthington Salon At Home Miracle Repair Elixir Oil
, £14.99
Pricier than you would have thought for Charles Worthington, hey? And it's only 50ml. It's a good job it smells like sweeties and does a sterling job. This is a lovely little product, I keep on trying Charles Worthington Salon At Home products and being pleasantly surprised. Definitely an easy one to get your hands on, too.
L'Oreal Professionel Mythic Oil
, £12.76
Probably my least favourite of the gang and I'm not even sure why. The packaging isn't great and I don't love the smell as much as I love the others. It doesn't feel as luxurious, just like an oil. Kind of blah.
So... which are my favourites? Value = VO5 Miracle Oil. Luxury = Macadamia Healing Spray Oil. But which is your favourite of the above or have you tried another that you think deserves to be on the list?