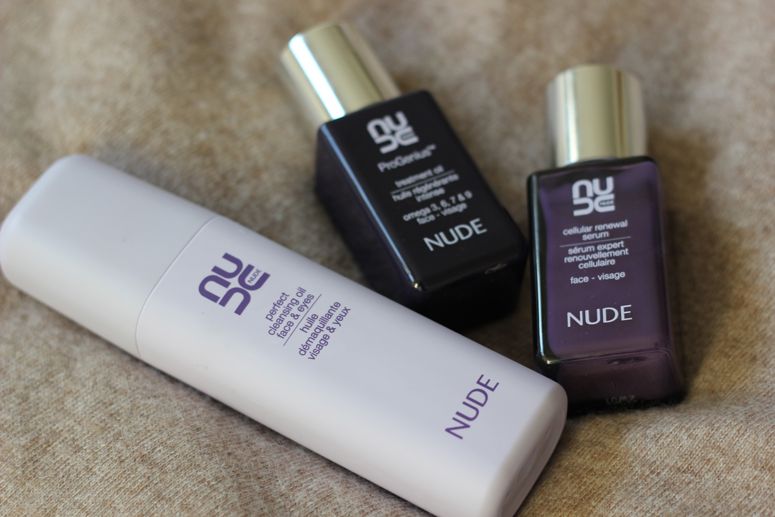 I'm going through a bit of a
natural beauty
products phase as I said in my last post. Not to say that everything I'm using is natural, but I've found myself using more and more products which claim to include less chemicals. I figure that if the products work just as well, I might as well go natural.
There seems to be more and more natural, higher-end brands coming out of the woodwork which means you can still do luxury but also know you're putting good stuff on your skin.
NUDE
's Perfect Cleansing Oil* (£28) gets great press on beauty blogs so I'd heard a lot about this product before, but I've also been trying out the Cellular Renewal Serum* (£64) and the Treatment Oil* (£58).
I absolutely adore the packaging. Love the simplicity and both glass bottles have a pipette within the lid, it's very clever. You'd expect great packaging when the whole range is so pricey though. Definitely an indulgent treat rather than a regular purchase.
NUDE Perfect Cleansing Oil
A couple of pumps on the hand, massaged into the face and then removed with warm water. I actually use a hot muslin cloth to remove mine, but that's just personal taste. Skin is left cleansed of any remaining eye make-up. I really like this, but I prefer my cleansing balms to a cleansing oil, they feel a little more luxurious. It also smells a bit like banana milkshake which I
love
.
NUDE Cellular Renewal Serum
This product is essentially an anti-ageing serum and I can't tell you quite how effective it is at that just yet, but it's a lovely little serum and smells really gorgeous. I layer this underneath moisturiser after cleansing. At £64 I definitely won't be repurchasing, but I'll be sad when I do run out.
NUDE Treatment Oil
Of all of the products in the range, I get on least well with this one and that's completely to do with the scent. I find it smells a bit like curry, which I love, but I don't particularly want on my face. It doesn't last on the skin though so it's only a momentary unpleasantness! If you can get past that then it really is a nice facial oil.
You can
read more about the brand here
. Have you tried NUDE before?