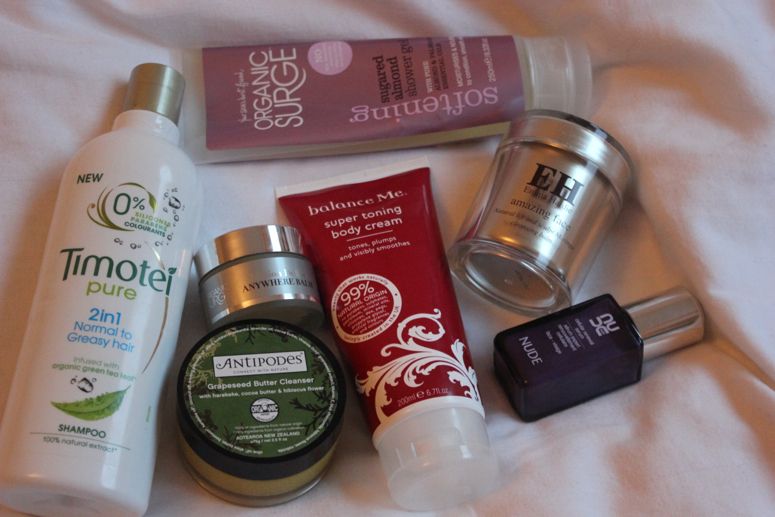 I'm not a passionate natural beauty lover but in the last few weeks I've found more and more natural products slipping into my daily routine and I have to say I'm pleasantly surprised.
This is a shocker. A 2-in-1 that actually works?! It does remind me of the 90s (both the brand and the 2-in-1 aspect) but I've been using this every other day and finding I don't actually need any extra conditioner despite the bleach in my hair. It's such a bargain too, and you know how I am about spending a lot of money on shampoo and conditioner.
If you try one lip balm this season, make it this one. It smells like lemon sherbet, leave lips super smooth and nourished and you can also use it on your cuticles, elbows, any dry bits at all. This has been a lifesaver over the last fortnight.
Antipodes Grapeseed Butter Cleanser
I've done a full review of this here
. Gorgeous product. Love that it's natural as with cleanser you really do slather it all over your face.
Balance Me Super Toning Body Cream
This smells unreal. I love popping this on after a hot bath on an evening. The natural oil scent lingers on your skin and is really soothing. Whether or not it is possible of 'toning', I couldn't say, but I like to think it's capable of miracles.
Emma Hardie Amazing Face Natural Lift & Sculpt Moringa Cleansing Balm
(currently 20% off!)
Again,
I've done a full review here
so if you want to read more about this one check that out. Gorgeous, luxury product that makes using natural products a true joy.
NUDE Cellular Renewal Serum
*
I've got a post coming up very shortly on a few NUDE products I've been testing, but I think this is my favourite of the lot. Gorgeous creamy serum which I pop on at night underneath moisturiser. The packaging is absolutely beautiful and I know I'm going to be devastated when this runs out as it's very pricey.
Organic Surge Sugared Almond Shower Gel
I was using the almond scented Dr. Bronner's shower gel which I did really love but this has totally usurped the Dr. B's! It's less strong scented, much more subtle for those of you who can't quite cope with the strong marzipan smell. It's also thicker and easier to lather up. And it looks pretty in the shower.
Are you a natural lover or not really bothered?